This ARC was obtained during YallWest/BookCon (I got in line for the in-booth signing at BookCon in which I could get a free copy, but I already got one at YallWest.)
---
Name: American Royals
Author: Katharine McGee
Publisher: Penguin Random House
Release Date: September 3, 2019
Synopsis
When America won the Revolutionary War, its people offered General George Washington a crown. Two and a half centuries later, the House of Washington still sits on the throne. Like most royal families, the Washingtons have an heir and a spare. A future monarch and a backup battery. Each child knows exactly what is expected of them. But these aren't just any royals. They're American. And their country was born of rebellion.
As Princess Beatrice gets closer to becoming America's first queen regnant, the duty she has embraced her entire life suddenly feels stifling. Nobody cares about the spare except when she's breaking the rules, so Princess Samantha doesn't care much about anything, either . . . except the one boy who is distinctly off-limits to her. And then there's Samantha's twin, Prince Jefferson. If he'd been born a generation earlier, he would have stood first in line for the throne, but the new laws of succession make him third. Most of America adores their devastatingly handsome prince . . . but two very different girls are vying to capture his heart.
The duty. The intrigue. The Crown. New York Times bestselling author Katharine McGee imagines an alternate version of the modern world, one where the glittering age of monarchies has not yet faded–and where love is still powerful enough to change the course of history.
---
Book Cover Comments
Working with a new publisher means a possibility for a completely different cover vibe, and different it is! But I LOVE it! The pop-art vibe with its subtle simplicity, I oh so wonder who exactly is on the cover! The ARC copy I have also has red foil letters, and I can't wait to see what the final copy has to offer!
---
The Review
Oh.
My.
God.
Katharine McGee's books never ceased to amaze me, whether it was the character relationships, plots, or most of all…
Katharine hasn't disappointed in this brand new series of hers and fills it with super intense and insane drama that might be perhaps, even more elevated from that in The Thousandth Floor. Oh, and you never know…. Katharine is known for making readers say goodbye to characters… forever. At least one per book.
Let's break down some of the key characters we have and talk about them!
Beatrice is soon-to-be Queen Regent, the first in American history. The weigh of everything, of her parents, family, of her entire life begins to weigh upon her as things keep adding up along the way and MORE TEA gets spilled, not to mention the fact that she might have some secret of her own going on that might ruin everything…. I love Beatrice's struggles within this book; her struggle to find her heart within the world of monarchs, the sacrifice they must give their country.
This is what I often think when it comes to monarchs and their noblesse oblige, as the French says. You'd think it'd be fun for the royalty to get a castle, to get all the dresses they want and be famous, but behind that curtain is nothing but stressful days after the other to maintain their image and make sure they aren't out of place, as well as not having the type of freedom us 21st century citizens now have.
Samantha is the younger sister of Bee (Beatrice) and twin-sister of Jefferson. Sam struggles, too, in the world of monarchs when she feels that she will always and only be the spare when the world focuses their attention of Bee because she will be queen. Sam struggles to find her own voice within the people around her and the world around her as she goes on a journey of ups and downs, misunderstandings and forgiveness.
While not given a POV, Jefferson, as you know, royal twin. Oh he'll be very apparent in someone's POV. The first girl who is vying for his heart. How their relationship will turn out, stay tuned because I can tell you, goes up and down like an insane roller coaster. Doubts are planted and hearts are shaken apart as first girl struggles to find her place within the life of the American Royals.
The second girl who is vying for Jeff's heart also gets her own POV! And she is indeed the complete opposite of first girl. Somewhat reminds me of Calliope from The Thousandth Floor series, but much much much worse than Calliope. But in the process of vying for Jeff's heart, second girl seems to have her own doubts as well. About this thing that she has been doing her whole life, and whether it is really worth all the time spent on it.
But in all honesty, Katharine is so good at building up the plot to a climax point where you never know how things will explode, fill you up with alternating memory balls of happiness and sadness….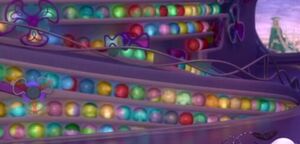 …then throw every memory ball out of the window and leave you hollow, carved and empty, becoming a zombie and now craving for the next book.
This book was super fun to learn about the irony of monarchs, and how the life of royals aren't so perfect at all; not the way you'd think of it. Throughout the book, maybe you'd hate some characters, you'd ship some characters, but mostly, you learn to listen to what their hearts say, their pain and suffering, see them grow up and empathise with the things that they are going through right now. Trust and believe me, it is as insane as The Thousandth Floor.
---
The story of American Royals brings you on a backstage tour behind the scenes as you listen to the point of views from Beatrice, Samantha and two other mysterious girls, their involvement in the life of monarch, struggling to find each of their own voices within the world of the royals, and when everything on the scale is about to tip over.
The following two tabs change content below.
Joanne Lumiere
Joanne is the narcissistic founder of her book blog, Joanne Lumiere. Born and raised in Hong Kong, this 18 year old brat is currently attending college in Los Angeles, and still doesn't know how to read books with sophistication, and yet she runs a blog.
Latest posts by Joanne Lumiere (see all)