It's actually terrible news to know that I haven't had a single visitor on my blog for the past week or so when over the past two years of blogging I always had someone?
---
Name: Song of the Current
Author: Sarah Tolcser
Publisher: Bloomsbury Publishing
Release Date: June 6, 2017
Synopsis
Caroline Oresteia is destined for the river. For generations, her family has been called by the river god, who has guided their wherries on countless voyages throughout the Riverlands. At seventeen, Caro has spent years listening to the water, ready to meet her fate. But the river god hasn't spoken her name yet—and if he hasn't by now, there's a chance he never will.
Caro decides to take her future into her own hands when her father is arrested for refusing to transport a mysterious crate. By agreeing to deliver it in exchange for his release, Caro finds herself caught in a web of politics and lies, with dangerous pirates after the cargo—an arrogant courier with a secret—and without the river god to help her. With so much at stake, Caro must choose between the life she always wanted and the one she never could have imagined for herself.
From debut author Sarah Tolcser comes an immersive and romantic fantasy set along the waterways of a magical world with a headstrong heroine determined to make her mark.
---
Book Cover Comments
While irl I didn't expect the dulled blue, the reflection of the moon is very pretty indeed.
---
The Actual Review
This book was one I bought last summer. And I'm reading it a year later.
It's one of those books that gives so much delay and procrastination. Believe me, this book does pick up the pace and gets exciting once you get past the maybe 35-40% mark, but the front part just took me FOREVA to get past. As some other book bloggers say, it was a series of pirate/ship terminologies that only people like my dad -who for some reason has a frickin boat license- would understand, and I was honestly not bothered to even attempt to research. The beginning was honestly, very slow, making this one of the toughest books I've ever read. Probably slightly better than And I Darken by Kiersten White.
In the book, you get a mysterious race of frogmen that apparently actually resemble frogs and a pig man who looks nothing like a pig but simply sells pork on a boat. And I was just like:
Five Night's at Freddy's??????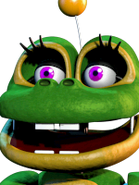 HAPPY FROG???
PIGPATCH???
Just kidding.
It was actually such a bummer that the real magical elements only came in more than halfway past the book: maybe around 75%. I mean hints of magic have been here and there throughout the book (probably?), but the main issue is when our main character, Caro actually stopped denying her roots of what god and not chooses to bless her that kinda ticked me off.
i'm gonna give you a spoiler warning for the next paragraph.
In the middle of the book our man character a.k.a. Tarquin/what-was-his-name-again got kidnapped and then Caro got super depressed for awhile. When you're simply 60% into the book, we all just know 100% that Mr. Prince not Tarquin is going to come back anyway? To me, it just somewhat felt kinda forced, which is why I am also unable to write any character toot 'n' boots unlike my other blog posts: the forceness and the difficulty for me to catch on to this book made it genuinely hard for me as a reader to connect with the characters. Sure Caro is an independent pirate on a ye' olde ship, but I just honestly couldn't even get the romance-detecting stomach-butterflies to stir. Not even a single bit.
I must say though that Caro's background, especially her mother's side of the family made the story super fun and interesting. It's good to know about Caro's mother because I must say she is one almighty woman and mother in their world: very intriguing with her mother being the head of a trading company, dealing with secrets and actual delivery, what and so not.
---
Alas, this book wasn't exactly worth the hype, and it takes a long time to reach the point where there's something that will push you to keep reading this book. There are interesting things that could probably be further developed, such as more involvement with the world of magic, as well as removing forced items, such as the middle of the book I'll die kidnapping, or even Caro's cousin joining the ship crew.
The following two tabs change content below.
Joanne Lumiere
Joanne is the narcissistic founder of her book blog, Joanne Lumiere. Born and raised in Hong Kong, this 18 year old brat is currently attending college in Los Angeles, and still doesn't know how to read books with sophistication, and yet she runs a blog.
Latest posts by Joanne Lumiere (see all)